Africa Charity Project - One Laptop Per Village
Required
Concept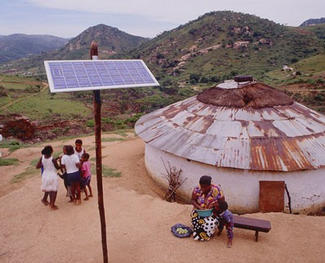 The above is the aspiration of this charity, along with teaching about permaculture and other aspects of self-sufficiency. So far I have helped the following organisations with their web presence:

Free Educational Program

, a freely downloadable manual to help Africans find work through the internet.
For African charities I have set up a Wordpress Tutorial where they can set up, with my help, websites to represent their charities. This skill is important as a possible professional income source but also to be able to present any idea to the world wide web.

In 2006 I moved myself and my internet-based business into a truck caravan so that I could travel freely around the world. I could do most of my work offline and then occasionally go to an internet cafe with a usb/memory stick and blast off my work to my client. Other times I would find a wifi connection and use my fancy internet to work online all day in the truck (internet connection while travel).
With two solar panels and one battery I found I had enough juice to keep the laptop running until morning (here's how I hooked up electricity in my caravan - so it would basically be the same system). Probably only one solar panel would be sufficient because I found the battery would be fully charged within an hour or two of sunlight in the morning.
For a long time my main source of work has been translations, but over the years I've been adding to that every other job I could think of which could be transferred over the internet, such as programming, web design, data entry and processing, even graphics and art work which can be scanned in and sent by mail. Refer following for a full list of the remote jobs which have so far occurred to me.
After living like this for three years it occurred to me that this could be an interesting project to try in Africa. I heard many villages don't even have electricity so their children can't even study their homework at night. This small package could be the hub of the entire village. And once they find work through it (we can also help them with that), they could save up and expand the system with additional laptops, solar panels and batteries, putting more and more people to work and increasing the revenue flow into the village.
I've also heard there are several projects under way to bring cheap wireless internet to Africa. In the meantime all the work can easily be done offline and when it is time to send it to the customer a simple usb/memory stick and a drive to an internet cafe in a neighbouring city will resolve this.
A template installation could be devised which would include courses how to learn English or other languages (English is useful to help find work on the net and communicate with potential customers), programming, web design and the works. Not only do I farm out such work myself but I've learned a lot of it myself, and know that it would not be difficult to put together an educational package for all these jobs and languages. Volunteers could translate the packages into various African languages and these then distributed to new or existing computers.
With the threat of disastrous climate change about to hit Africa (here's a global warming response project I am helping to promote), it will certainly be nice to send money to them and help them, but it is always better to give people the means to help themselves. With this small help the millions of villages across Africa can make the digital leap from subsistence farming to full fledged members of the new information global economy. The internet revolution is about to hit Africa, and this approach will help it from the ground up (instead of a top-down approach in the form of governments and organizations setting up the internet network).

From my experience, this is what a single package could cost (it should be lower assuming the solar panels are purchased and shipped in bulk, or given a charity discount by the manufacturer):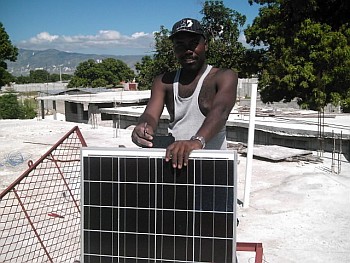 So technically less than one thousand Euro could be enough to kick start an entire village into the global community and help it feed itself. And heck, if already "throwing around" this amount of money, why not also throw in an airpump and soccer ball and put a practical smile on the faces of the village?
Then obviously you need a truck to drive around Africa and go from village to village helping them get set up. Visit them from time to time and help them with computer problems. As their knowledge base improves they can start helping themselves and other villages, translate the initial package into their own language, start teaching others, and let it steam roll forward from there.

It seems too easy not to work!

Then I guess there would have to be some central warehouse somewhere in Africa where to receive and store the solar panels etc. Shouldn't cost that much to rent. Possibly some sort of receiving system in the rich countries where people can donate their used laptops and a package occasionally shipped once a container is filled up. So a warehouse on each rich continent to where these laptops or possibly solar panels could be sent.

Once the laptops get to Africa, it is a simple matter of formatting them and copying onto them the prepared image of English and other language courses, instruction kit, instruction kit translated in other African languages once they become available, and all the courses for the other jobs. I've taught all these jobs to myself, so why can't anyone else? Okay, maybe a few simple games for the kids, but I'm sure the entire village will be fighting over who gets to use it. Heck, probably three people could read and learn from the same screen at the same time. Their first investment might be a second LCD monitor so that more people could be reading at the same time (every laptop has a VGA output for a second monitor). Those certainly are not very expensive.


Execution

I would love to drive around Africa and help set this up. I've already got a beautiful Mercedes caravan truck which can apparently run 2.5 million km total (only 600,000 km so far and running like a beaut), and I will soon convert it to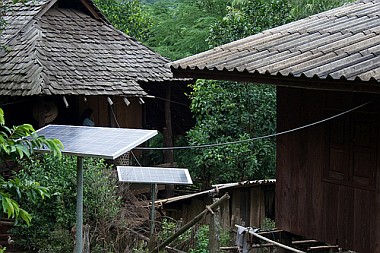 Fantastic and Free French Fry Flower Force Fuel (7 beautiful Fs, where 7 is a holy number), so no more fuel costs. A genius system where any diesel engine (especially old ones like mine) can run on used cooking oil by using a second tank which heats it up to increase its viscosity to the same level as regular fuel. The original diesel engine was invented to run on peanut oil and the modern diesel engine is basically the same (does not run on spark plugs but combustion is ignited by compression only). I'll link to a webpage explaining that once I get this done.
I'm a computer whiz so I would really enjoy this, and I already have my own business so I wouldn't need to charge anything. With more donations I'd obviously need to get a crew of Africans going, because I doubt I could hit too many villages in my lifetime.

Anyway, I'll start hitting a bunch of solar panel manufacturers and see what deal I can round up. This project seems very doable, not expensive, and one which can do a lot of good, because I think Africa will be hit with a lot of suffering once the climate starts changing and I'd like to start helping them with that now.

Any suggestions you may have would be great. If you choose to donate any money I promise that 100% of it will go towards this project. I've already got my own job and successful business, so I don't need anything from this. I will post online all contributions and the budget to make everything fully transparent.

Thank you for your time!

Progress and correspondence so far.
If you would like email updates of further progress please feel free to subscribe here.