Initiating programs concerning awareness of the environment and environmental conservation
Ensuring environmental sustainability: YTO intervention is in areas of tree planting. We educate, train and inform communities about environmental degradation, and form environmental clubs in schools.
We plant trees to combat environmental degradation and help improve the health of school children and the community. The intention is to sustain and improve environmental stewardship, increase knowledge on tree planting & management among the school, children, their parents and guardians so we can value trees as a community asset. This will also increase knowledge in addressing environmental issues through tree planting exercises and awareness workshops.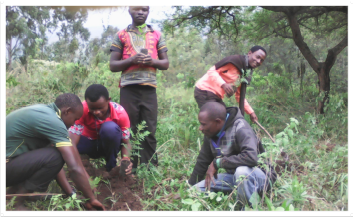 The YTO environment project increases environmental awareness among youngsters by equipping them with the knowledge needed to protect mother earth by educating them about environmental conservation, and most importantly, by planting trees during their younger years in order to increase the forested area of Tanzania.