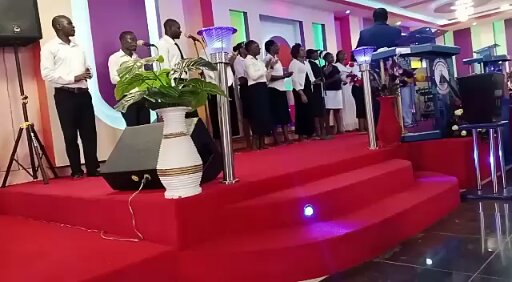 The Best Life Ministries International [BLMI] is a Christian fellowship of brother and sisters that started in early 2018 with God's call of its founder. He heard a voice talking to him about starting a ministry which will be there to preach the Gospel to people in desperate situations, such as prisoners, the hospitalized sick, drug addicts in rehabilitation centers and children in orphanages. The founder then started contacting people from around the world to request for Bibles and other Christian literature. He couldn't find more but a few people responded positively to his request. The very first to assist was GOSPEL TRACT AND BIBLE SOCIETY <link to their website or contact, if possible> in the year 2019, who sent us some 5750 tracts made of different topics that we distributed to prisoners and orphanages and church members from neighboring denominations. It is with these tracts that God opened the doors for us to get access to people behind bars for the first time. We continued praying God for the ministry and God continued to show his mercy on our work. Suddenly and sadly the early 2020 announced itself as a year of hardship, calamity and misfortune after the devastating and fearful COVID-19 manifested itself to interrupt our activity, as no one was permitted to leave their house for one year and a half. (From March 2020 to September 2021). In April 2020 we received eight parcels containing a total of 320 Bibles courtesy of MICHELLE PARK from CHRISTIAN BOOK <link to website or contact possible?> in USA. The books stayed kept in store for the entire duraction of the COVID-19 health measures in place. In September 2021 we started distributing Bibles to prisons and orphanages as follows: 80 Bibles were sent to the NYERI prison, the KAMITI prison received 40 Bibles, LANG'ATA prison 40 Bibles, INDUSTRIAL AREA prison 40 Bibles, Orphans from JESUS EXALTED WORSHIP MINISTRIES 40 Bibles, and Prophet AWOR orphan 20 Bibles. In October 2021 we received 3000 tracts from GOSPEL TRACT AND BIBLE SOCIETY and 40 Bibles from SOVEREIGN GRACE <links if possible> in USA. We are grateful to our partners who are taking our ministry at hand by their different book donations to the needy, disadvantaged and underprivileged. May the Lord Almighty reward them a thousand fold.
Who are we?
Bread of Life Ministries is a member of the body of Christ Jesus serving the Lord our God in times of hardship, difficulties and challenges. We are Christ followers and disciples, born again, justified and sanctified in the holy blood of Jesus Christ offered on the cross to cleanse us from the bound of sin. We are brothers and sisters dedicated and committed to serve the Lord with diligence, devotion and manifest true love to one another.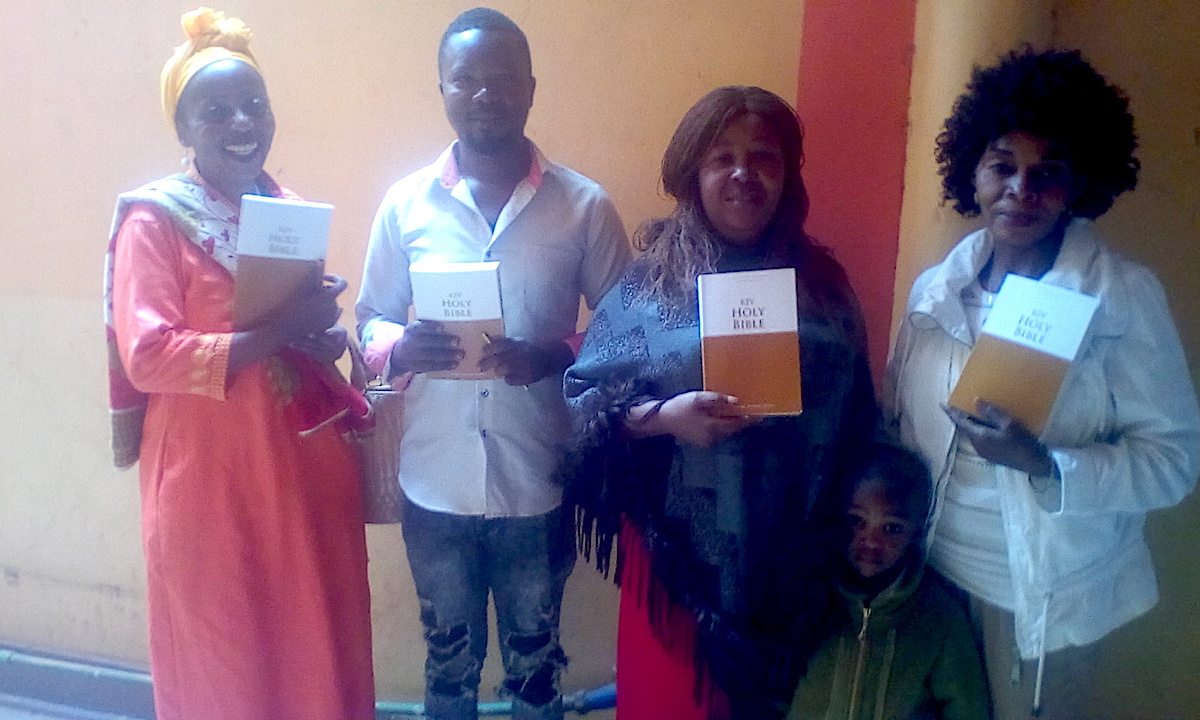 We are a ministry that is opening its doors to stretch our hands out to reach people in difficulties and suffering wherever they are (prisons, hospitals, rehabilitation centers, orphanages and the like). BLMI is a love driven goals and brother's keeper aimed and centered. We believe in lifting <what do you mean by lifting? Spiritually? Encouragement?> and caring for those who cannot walk for themselves <are you talking about cripples now?>. We are there to speak for those who cannot speak for themselves <what do you mean, they are mute? How are you representing them?>. We are willing to make the difference by preaching the gospel in prisons, hospitals, rehabilitation centers, orphanages and by reaching out to the unreached.
Moto
Love your neighbor as you love yourself (Matthew 22,39; Mark 12,31).
Statement of Faith
We believe the Bible to be the inspired and the only infallible, authoritative Word of God (2 Timothy 3:16).
We believe that there is one God, eternally existent in three persons: Father, Son, and Holy Spirit (Matthew 28:19).
We believe in:
the full deity and full humanity of Christ (John 1:1–14; Hebrews 1:3–5, 2:5–18),
His virgin birth (Luke 1:26–38),
His sinless life (2 Corinthians 5:21; Hebrews 4:15),
His miracles (John 10:31–38),
His vicarious and atoning death through His shed blood (Matthew 26:28; 1 Peter 2:24),
His bodily resurrection (John 20:1–31; Acts 1:1–3; 1 Corinthians 15:1–8),
His ascension to the right Hand of the Father (Acts 1:4–11),
His present rule as Head of the Church (Ephesians 1:22, 5:23; Colossians 1:18), and
His personal return in power and glory (Revelation 19:11–16; 22:7–21).
We believe in the present ministry of the Holy Spirit, by whose indwelling the Christian is enabled to live a godly life (2 Corinthians 3:17–18).
We believe that regeneration by the Holy Spirit is absolutely essential for the salvation of all who are separated from God by sin and rebellion (John 14:15–21; Romans 8:1–11; 1 Corinthians 12:3).
We believe in the resurrection of both the saved and the lost: they that are lost unto damnation (Matthew 25:41–46), and they that are saved unto the resurrection of eternal life (Matthew 25:31–40; 1 Corinthians 15:42–57).
We believe in the spiritual unity of believers in our Lord Jesus Christ, with equality across races, genders, and classes (Colossians 3:11).
Our aim
To serve the Lord in holiness(1 Corinthians 3,16; 6,19)
To bring the gospel of Love to those who feel loveless(Roman 5,18; 1 John 4,16; Romans 1, 16…)
To make Jesus known by distributing the Word of life (John 17,3; John 1,1-18)
To let people come closer and feel the love of Jesus (James 4,8; 1 John 1,9; 1 Timothy 2,1-15; John 14,15; Psalm 145,18; 34,18…)
To build churches in the inner part of people (Galatians 4,6; 1 John 4,16; Ephesians 3,17; 1 Corinthians 3,16…)
To make Jesus known (Acts 4,12; John14,6; Roman 5,8; John 3,16; 2 Peter 3,9).
To inspire people to love God with all their heart, strength, mind and with all their power to also love people as they love themselves. (Revelation 4,11; Matthew 23, 37; Deuteronomy 6,5; Mark 12,30)
 Our needs
A place to call church, where we will build a temple for the Lord, where we will be worshipping, honoring, praising, and praying to our Lord God.
Transport means to ease, help and facilitate us to reach our destination when reaching out (to prisons, hospitals, rehabilitation centers, orphanages..).
Sound equipment (4 speakers, 4 guitars, 6 wireless microphones, 1 keyboard, 1 mixer, 1 generator, 1 drum set
Our partners
GOSPEL TRACT AND BIBLE SOCIETY<link?>



<link to the above pic/organisation?>
Our contact
The Best Life Ministries International
PO BOX 9533-00300
Ronald Ngala Street
Nairobi
Kenya