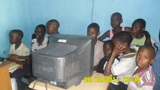 Hurumia Watoto is a community Based Organization registered number 178 in Mwanza,Tanzania it works towards shared vision of  helping children  aprt from ,we have different programme including Embroidery project,capacity building,trees project,Health project ,Environment project conservation,women empowerment,We work with 4AID in London,Tanzania development Trust,Aspiration Technolohy,TWAM ,african charity project ,mcn foundation and other organization,For years i have been thinking of helping my community ,i still strugle to make sure i leave smile to the poor community.
Currently we are looking for support of computer room/class construction for the children we have almost 15 computers donated by tools with a mission in UK,but we have no a room for training,kindly we need help to make the community goals reach in time.
you can contact the director: [email protected]
Thanks in Advance
Albert kahai
Tanzania.